No Pool, No Problem: 6 Clever Ways to Beat the Heat on a Budget
Do you gaze wistfully upon the neighbors as they frolic and splash in their backyard pool? Is your lawn too small (and your bank account too slim) to consider installing your own? Fret not, dear reader—you can still cool off this summer. Each one of these swimming pool alternatives costs less than an in-ground pool and is relatively low-maintenance. So grab your towel and get ready to dive (or wade, as the case may be) in.
1. A misting system

Photo by MistAir AZ
Whether you go the quick-and-easy route with a simple misting fan, or you deck out your entire patio with a misting system, this cooling mechanism will be your salvation all summer long.
For about $100, a misting fan easily hooks up to your garden hose and can be placed wherever you need it. With three speeds and the option to oscillate, this chilly wonder will cool off cookouts and backyard parties.
If you're a savvy DIYer, you can set up a misting system along your porch ceiling or pergola. The Orbit Mid Pressure kit (under $50) has the tubing and nozzles—so you just add a basic garden hose. When the water's on, H2O is forced through the nozzles and then atomized into tiny cooling droplets. A misting system can also be run along the edges of a patio umbrella, garden arbor, or weatherproof gazebo. Step in and out of it for a refreshing blast!
2. A stock tank
Sure, you're floating in a tank that's actually for cows and sheep, but who cares if it's keeping you cool? At less than $500, a stock tank can be installed in your backyard in just a day.
Find a level spot on the lawn and seal any cracks with plumber's putty or epoxy. You might consider putting in a filter pump, though you can do without one if you don't mind emptying the tank when it's dirty or using chlorine tablets to impede the growth of algae. Pick up a solar cover to keep out leaves and bugs. It'll keep the water clean and warm, too.
3. A truck bed pool
Yup, you can take a refreshing dip on the hottest of days—right in your driveway. If you have a pickup truck and $280, you can buy a legit truck bed pool. They come in two sizes (short box or standard) and are much easier to fill and enjoy than draping and securing your own random tarps (it's a leaky mess!). This sturdy vinyl pool stretches over the back of your truck and drains easily from a valve on the tailgate side. And the best part: It's portable. Pack up the liner in the back and then fill it wherever you feel like stopping to play in the water. We were a little dubious about this one, but these things are so popular, they're easily selling out.
4. A backyard stream
That rippling sound out back is soothing—and plunging your feet in can go a long way toward bringing your temperature down. If you're looking for a water element that's as decorative as it is useful, a backyard stream is the way to go. Yes, this is a big project, but if you're a committed DIY-er, you can build this water feature yourself in a couple of weekends. Or you could hire a pro!
A slight incline is all you need for a short stream of recirculating water—plus an underground sump pump (they start at about $50)—to shoot the water from the bottom back to the top. Line the edges with recycled brick, large stones from your property, or slate pavers from a home improvement store. You can even go the extra mile and create some waterfalls.
5. A splash pad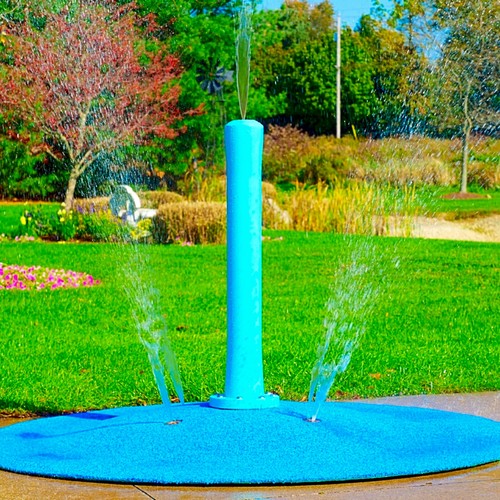 Kids and adults alike will take quickly to a backyard splash pad—and the dog will go nuts, too. While it's easy to install (just attach a hose), it's also one of the more expensive options in this list (a 5-foot portable pad from My Splash Pad is $1,275). Bigger pads cost more, as do those that can be permanently installed. But for a setup that's quick and easy, our money's on this souped-up sprinkler.
6. A DIY slip 'n' slide
Sure, you can buy one from a big-box store. But if you're looking for a crafts project the whole family can do—or you want to customize your slip 'n' slide—you can easily make one yourself. As long as you own a hose, the rest of the components come in at under $50: a long piece of tarp or sturdy plastic sheeting, some foam pool noodles (these are the bumpers along the edge), and strong Velcro to attach the tarp around the noodles. Add a few small stakes to hold it in place, a garden hose, something to grease the chute (dish soap, baby oil)—and you're off!